Cosmetic Dentistry in Dentist in Summerlin Las Vegas, NV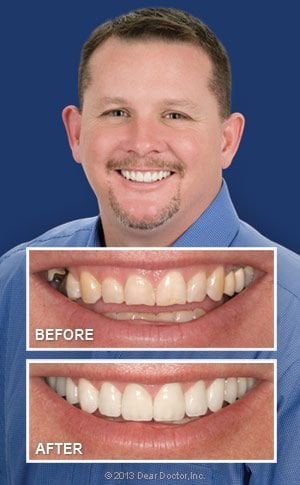 Just like our fingerprints are unique, so too are our smiles. Chances are good that one of the first features that you notice about someone is their smile, and chances are also good that they are noticing your smile, too. Many people come into our practice because they are embarrassed about their smiles, and they want a treatment option that will give them a smile that helps them feel more confident. Our Las Vegas, NV, dental team of Dr. Robin Lobato and Dr. Sean Truong love nothing more than crafting impeccable smiles that leave our patients happy and confident.
Here at our Las Vegas practice, we offer full-service cosmetic dentistry to address every patient's needs and goals. We understand that everything from diet and aging to accidents can leave you dealing with a less-than-perfect smile, and our job is to give you the smile you want through the cosmetic dentistry services we offer.

From professional in-office whitening and dental bonding to veneers and Invisalign, our cosmetic dentists can help you correct any and all esthetic problems with these popular solutions (and more!). People often turn to us because they are dealing with:

Yellowing or stained teeth
Crowding, crookedness, and spacing between teeth
Misshapen or malformed teeth
Teeth that are asymmetrical or size
Excessively pointy teeth
Worn teeth
Chipped or cracked teeth
Gummy smiles
Improving your smile doesn't necessarily mean undergoing more invasive treatment options. Our cosmetic treatments run the gamut, from minor and non-invasive to full-blown makeovers designed to correct both functional and esthetic issues. Your treatment plan is tailored to your needs to make sure that you get the results you're looking for.
From the very first consultation to the moment you see your results, we want to make sure the service and care you get are top-notch. We have a friendly, knowledgeable team that's ready to talk you through each step of the process and our practice is equipped with the latest cosmetic technologies.
---
What does cosmetic dentistry focus on?
Cosmetic dentistry primarily focuses on the aesthetics of your smile rather than the health and function of your teeth and gums. Cosmetic dentistry gives patients the smiles they've been looking for, from whitening to recontouring to replacing missing teeth. When you are looking to change the look of your smile, rather minor or drastic, then cosmetic dentistry is the answer.
Do cosmetic dentistry procedures look natural?
From more conservative treatments to more aggressive procedures, cosmetic dentistry can offer anyone a more attractive smile. Advancements in dental technology have also created more natural, tooth-like options and materials than ever before, so no one will ever be able to tell that you have received restorative dental work.
Here are some of the cosmetic services we offer:
Dental bonding and reshaping
Dental fillings
Dental veneers
Teeth whitening
Plus more!
Looking to give your smile a makeover? Dr. Robin Lobato & Associates offers procedures in Cosmetic Dentistry. Give our Summerlin Las Vegas, NV dental office a call at (702) 877-0500 to schedule a visit. We would love to hear from you!